Tis the season to get bloody! Christmas Cruelty is coming to town.
Tis the season for death and dismemberment! This Christmas, Santa is going postal… 
Grab your holiday horror November 8, 2022 from Unearthed Films!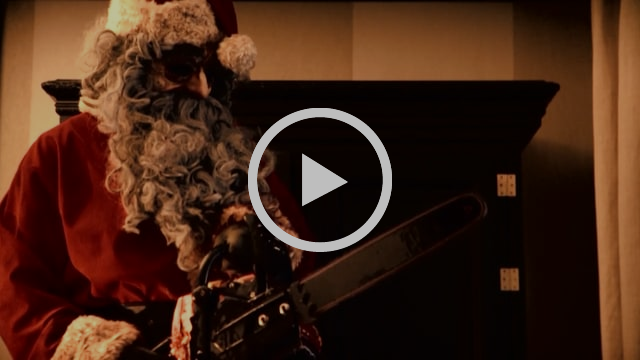 Fa la la la la… la die die die! Here's a horrifically festive trailer!
This year it doesn't matter if you have been naughty or nice, Santa is coming to town no matter what, and he knows where you live.
From the Critics:
"If you are looking for a movie that is brutal and pulls no punches, Christmas Cruelty is for you. This is a movie that has a definite "Holy Shit!" moment, and it's right up front for you, as we see a family bound across their living room, blood everywhere, and then watch as a large man kills a crying baby with a power saw. Yep, this is that kind of movie." –Horror News 
"A woman is raped with a knife to make her bleed so the killer can rape her again, a guy gets his head cut off and another gets a leg broken then assaulted with a chainsaw! All of this is brilliantly done and looks awesome! " –Extreme Horror Cinema
Blu-ray Extras:  
Audio Commentary with Per-Ingvar Tomren and Raymond Volle
'How Cruelty Changed Our Lives' Featurette
Interview with Morten Haagensen
'Endless Highway' music video by The Last Rebels
Press Conference
Bloopers
Watch-a-long with Flesh Wound Horror
'Tradition' short film
Teaser Trailer
Photo Gallery
DVD Extras: 
Audio Commentary with Per-Ingvar Tomren and Raymond Volle
'Endless Highway' music video by The Last Rebels
Teaser Trailer
From Co-Director, Per-Ingvar Tomren:
"I have brittle bone disease (like Samuel L. Jackson in Unbreakable), so I pretty much grew up in Norwegian hospitals. When I was a toddler, they were trying to figure out what was wrong with me, and one of the things they did was to cut me to check if I was a hemophiliac. They cut way too deep and I almost bleed to death. I still have scars from this test. Sometimes, the doctors would plaster my fractures wrong so the bones would grow back crooked, and once a doctor just re-broke my leg to fix his mistake, all without any painkillers. One time, they gave me too little anesthesia, and I woke up in the middle of surgery. They had sawed my leg bone into several pieces, and the surgeon was holding some of them in his hands and was about to put them back into a gaping wound below my knee. During my next surgery, they gave me way too much anesthesia, so I stopped breathing and was dead for a little while. So I had a lot of painful experiences to draw from when we made Christmas Cruelty!" –PopHorror.com
Directors: Per-Ingvar Tomren, Magne Steinsvoll

Writers: Eline Aasheim, Janne Iren Holseter, Anita Nyhagen 

Stars: Eline Aasheim, Tormod Lien, Magne Steinsvoll

Pre-Order Christmas Cruelty now from: Grindhouse Video, Diabolik DVD, Cinema Classics, Amazon US, Amazon CAN, and soon from Film Treasures UK and Unearthed Films