THE COVER FOR THE LIMITED EDITION DVD IS ONLY AVAILABLE FOR 30 DAYS! ARTWORK BY MARTIN TRAFFORD. 
Limited Edition DVD with alternate artwork by Martin Trafford… $25.00 
TORMENT: Director Adam Ford, has used what made Marian Dora's Cannibal so filthy and decadent, and knocked it out of the park with his depiction of some of the worst male-sexualized violence committed to film. Mind you, this isn't a gorefest, but rather an (un)pleasant execution in unsettling horror.
THE COVER FOR THE LIMITED EDITION BLU-RAY IS ONLY AVAILABLE FOR 30 DAYS!
Limited Edition Blu Ray… $30.00
Never was a title more appropriate and, above all … never so "enveloping"; because the TORMENT that lives with the characters on the screen (only 3 actors, each with his own personal "torment") spreads like wildfire around us, then penetrates and takes our breath away.
–Klub 99
$395 + SHIPPING (Limited to 20)
DUE TO THE LIMITED NATURE AND HORRIFIC CONTENTS OF THIS BUNDLE, PURCHASE INSTRUCTIONS WILL BE AVAILABLE AT 
WWW.UNEARTHEDFILMS.COM
 TO PLACE YOUR ORDER.
A one-of-a-kind 9″ x 12″ painting of John Wayne Gacy by artist Lou Rusconi: Each painting is wrapped and signed by Lou and it will be a mystery which one you will get.
One letter signed by John Wayne Gacy sent to Merle Allen of The Murder Junkies
One Novel: "Killer Clown: The John Wayne Gacy Murders" written by Terry Sullivan with Peter T. Maiken
The DVD "SERIAL KILLER CULTURE" directed by John Borowski
A Limited Edition Blu-ray of "TORMENT" based on the Gacy murders with a limited edition blood painting cover by artist Ryan Almighty (limited to 20)
A Limited to 50 signed print of a painting, painted in blood, of Pogo from artist Ryan Almighty 
A hand painted patch of Pogo the clown made by Jeremi Cruise of ToeTag EFX
A LIMITED EDITION BLU-RAY OF "TORMENT" BASED ON THE GACY MURDERS WITH A LIMITED EDITION BLOOD PAINTING COVER BY ARTIST RYAN ALMIGHTY IS LIMITED TO ONLY 20!
THIS IS JUST ONE OF THE 9X12 MYSTERY PAINTINGS YOU COULD RECEIVE IN THE INFAMOUS GACY BUNDLE! ALL PAINTINGS ARE ONE-OF-A-KIND. ALL ARE PAINTED BY EXTRAORDINARY ARTIST, LOU RUSCONI. 
The atrocities Jeffery experiences are so traumatic, that they penetrate his subconscious, so he is horrified even when passed-out. Ford manages to give us an inside look into the action of a madman, but also into the mind of his victim.
–My Indie Productions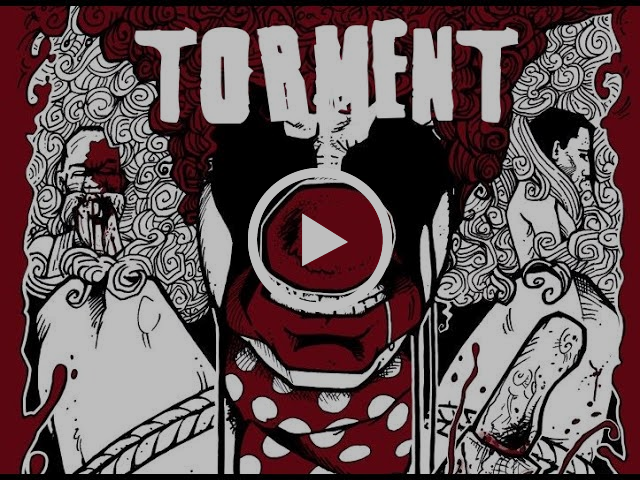 TORMENT TRAILER